Drink Guinness in Ireland ✓
October 22, 2015
I arrived in Dublin at 11pm and my to-do list was simple. Okay, okay.. my to-do list was to try a real Irish Guinness, maybe two, maybe three.
I found myself at a pub called Temple Bar in Central Dublin, and I was starving. The Temple Bar is apparently famous because a man set the world record here for playing live music on his guitar for 114 hours straight, which is quite impressive when you think about it. "Guinness, please!" I said to the bartender. "Oh, and do you guys serve food?" I asked, hoping the cute bartender would tell me that they had many forms of Irish potatoes and I could try them all. But he looked at me and shook his head.
"What ya need food for?" He slid the pint across the bar. "There's a pork-chop in every glass!" he promised, pointing at my frothy perfect pint of Guinness. I nodded my head and sat back in my chair while a man played the fiddle. This was filling enough.
The next day I combined a day of sightseeing with a pub adventure my Italian friend and I curated. Our exploration consisted of a 1,000 year old pub where Robin Hood used to frequent as a guest, a pub where Bill Clinton once hung out, a pub in someone's house, and finally, the first pub to have electricity. By the end of it, I was zonked.
No, I'm totally kidding! By the end of it, I was hoping to find some live music. So when I walked into the last pub to find these fine fellows, I was thrilled:
I'm not sure you can get more Irish (unless you're a leprechaun) than drinking Guinness with fiddle-playing, Gaelic-speaking Irish men, one of whom was named, I kid you not— Paddy O'Ryan. He let me try his fiddle, and by the end I was named lead singer of their band. As lead singer I found myself standing on top of a table, singing words I don't recall and stomping my foot to the beat while the bar clapped. Cheers! 
A few hours passed, and when the bar finally kicked us out I said goodbye to the band and the next morning my friend and I rented a car and drove five hours to Dunquin. Dunquin is a tiny town on the Dingle Peninsula as far west in Ireland as you can go… I'm talking next stop Boston. Of course, as one does in Ireland, we hit a roadbahhhhh-lock along the way. These sheep were so cute I wanted to jump out and pet them.
When we arrived at the cottage it was on a sheep farm overlooking the ocean.
In Dingle, I went for runs:
Sat on a donkey while a man played the flute.
Cycled through rain and hail in Killarney..
Wanted to borrow this snaggle-toothed pup in attempt to herd my own sheep friends..
Sipped french press coffee and ate homemade scones at this table with the worst view.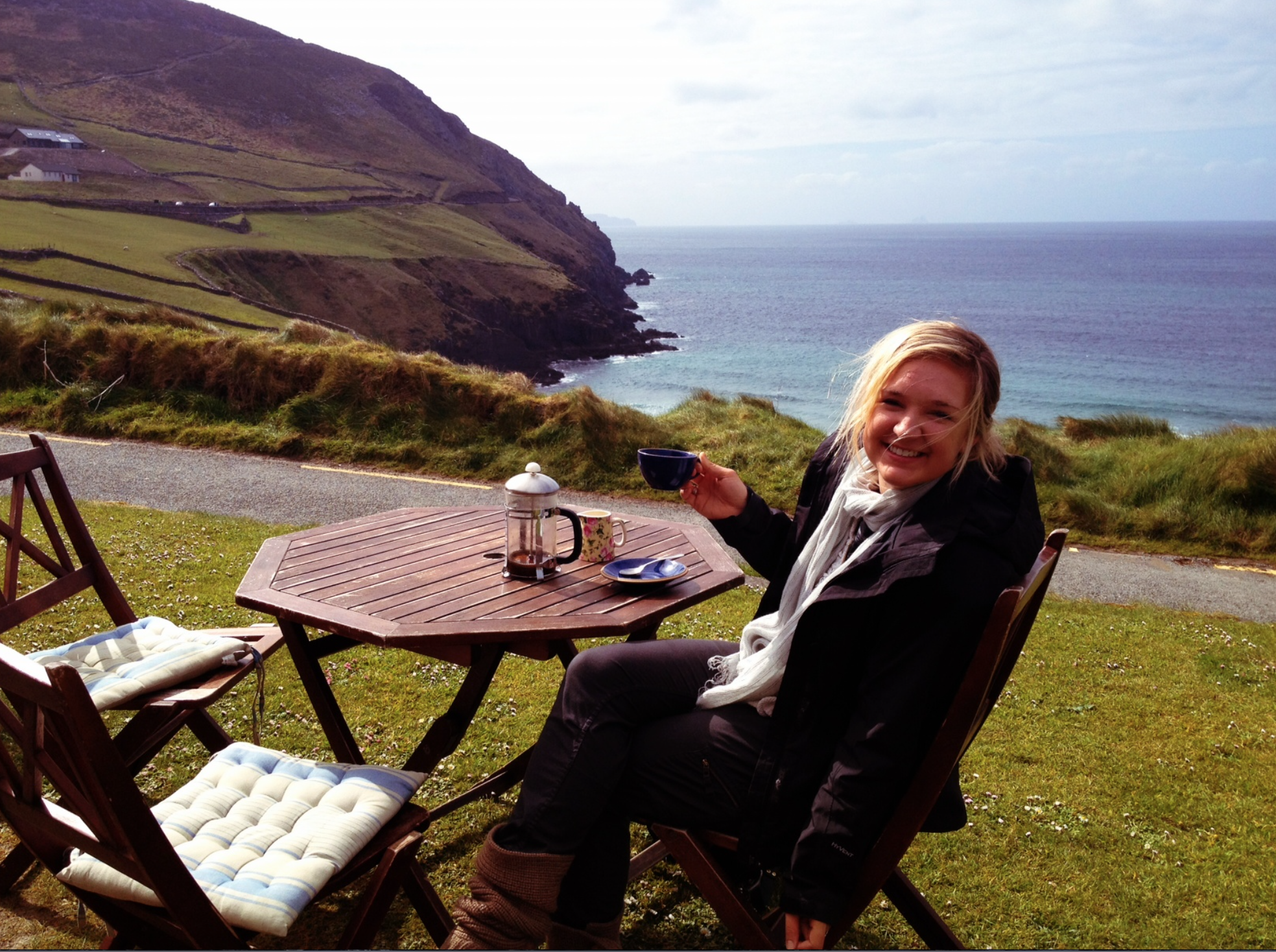 And discovered more awful views..
And that was Ireland!

Slán!

Tags: Cycling, Dublin